Our History
Founded with values, built over generations.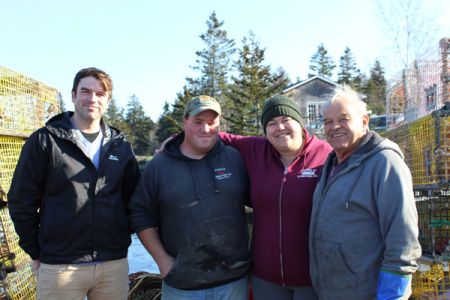 The Fifield wharf has been a fixture on Burnt Cove in Stonington through many generations.
Tilden J. Fifield began our first lobster buying operation in the mid-1930s on land that has been in the Fifield Family since 1806. His first log and crib wharf was on the same spot that our main wharf still occupies. He purchased and carried the lobsters of his fishermen family members in the cove and sold them to a lobster smack that traveled Penobscot Bay weekly.
A few years later, Tilden began working with his grandson, Willie Fifield, who had also grown up on Burnt Cove. When World War II began, Willie joined the Army and his lobster buying career was put on hold. Tilden's oldest son, Allan Fifield, helped his father run the business through the war until Willie returned in 1945. Tilden died in 1947 and Willie took over the business shortly after his return from war.
Allan continued to help Willie in those early years to ensure the family business would survive.  Willie rebuilt the wharf to provide deeper water access. Both of Willie's sons, Wally and Royce, were eventually raised in the business. Wally would go on to take over the business in the mid-1980s while Royce went on to be a successful fisherman and still sells at the family wharf.
Wally re-built the wharf to his liking in the early 1990s. Royce and his son Dustin managed the business from 2009 through 2011 while Wally took a break. Dustin continued to work in the business until 2015 when he left to pursue another career.
Wally's son Travis Fifield left his corporate job and began working in the family business in 2017, and eventually took over the business in 2019, pulling his sister Christina as well. The siblings are now in the process of rebuilding, raising, and expanding the wharf again to ensure that the next Fifield's at the helm are better prepared for a changing climate, rising sea levels, and ever-evolving opportunities in more diverse fisheries.
In the Press
Articles featuring Fifield Lobster Co.